Innovative Access Control & Intercom Systems. Robust Management Platform providing Door Access Administration across all your facilities.
Liveforce is a leader in Access Control Systems solutions in the Ottawa Region. Our Access Control Systems are fully scalable in securing businesses and institutes of all sizes. We offer a full suite of access control hardware and software solutions including perimeter security, intercom systems, access gates and high security sally port entryways.
Our access control systems can seamlessly integrate with our video surveillance and alarm systems to provide security operators with a centrally managed solution.
Benefits and Features of our Access Control Systems:
High Security ID Cards & Photo Verification at Entry Points

Physical Security Inspection and Facial Recognition Verification.

Easy Keycard Enrollment & Permissions Setup

Local and Remote ability to grant or remove user permissions and set locks.

Detailed Event Logs and Card Holder Analytics

Customized Reports, Manage and Track users within your secured Facility.
Our Range of Access Control Systems include:
Door Access Control Systems, 
Scheduled Employee Access, Automatic Locks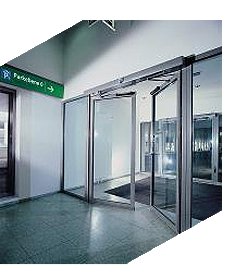 Electric Door Locks & Entry Access Management, Made Easy!
Electronic Strike and Magnetic Door Locks allow Security System Operators to quickly and effectively manage over various areas within their secured facility and to program automatic locks not only for convenience, but for saving critical seconds in an emergency situation.
We offer various styles of Electric Locks, Card Readers, Keypads and Biometrics Readers.
Custom Design Secure I.D Badges

Printed using re-transfer technology for highest image resolution and durability. Magnetic and Chip encoding also available.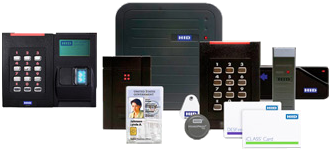 Intercom & Telephone Entry Systems, 
Commercial, Residential, Vertical Solutions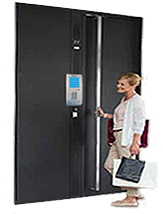 Single Dial Intercom Systems or Multiple Entry with LCD Display
Our Intercom and Telephone Entry Systems can be deployed in either single dial systems for high security businesses and government environments or in multiple entry configurations available with LCD displays which are ideal for commercial, residential high rise, or applications that require telephone entry access only, such as rental apartments.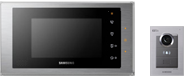 Standalone IP Door Intercom: 2-way Voice & Video Intercom System, Ideal for small apartment buildings, gated communities, condominiums, office buildings, and retail locations.
Gate Access Control Systems & Sally Ports, 
Man Trap Systems Free of Human Error
Automatic and Manual Operation Gate Access Control 
Pedestrian ID Card Access Gates and Turnstiles are available in stylish stainless steel and glass designs, fitting seamlessly into modern business and government environments, while our more rugged gates and turnstiles are perfect for industrial and institutional applications.
Additionally, for secured screening areas we offer custom engineered Sally Ports and Airlock Systems with options of bulletproof and blast proof armor plating.
Vehicle Access Control: Variety of Vehicle Gates with manual or automatic operation, including high strength bollards which are K 12 crash certified. Capable of stopping a 15,000 lb vehicle at 80 km/h.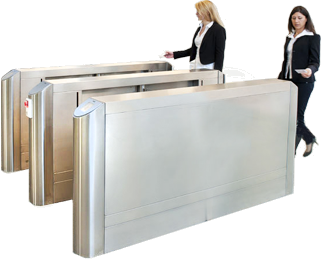 Perimeter Security Systems, 
High Accuracy Volumetric & Optical Sensors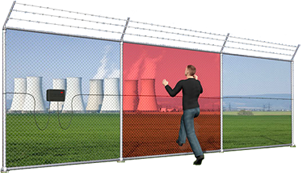 Intruder Detection within 3 feet Accuracy per 2000′ Coverage

Our perimeter intrusion detection sensor technologies include, proximity and fence sensors, as well as buried, microwave, fiber optic, electrostatic and barrier sensors. We are able to design a complete, perimeter intrusion detection solution for any perimeter size.

Microwave Motion Sensors: Rapid Deployment, Transmitter and Receiver based motion sensors create an invisible detection zone (upto 650 feet) that alerts when unwanted intrusions occur even in extreme weather conditions.
Central Access Control Management,
Full Control over your Facility
Easy ID Card & Permission Enrollment

Comprehensive Event & User Tracking

Integration with Video Surveillance Cameras

Automatic Locks & Access Schedules 
Our Security Access Control Terminals are designed to provide operators with full overview and precise control over their facility.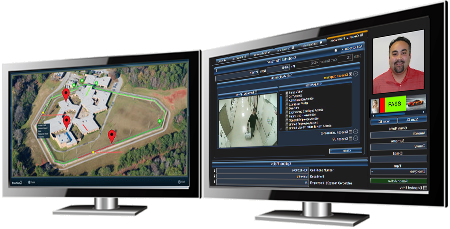 Professional Structured Cabling,
Vandal Resistant Hardware

Our Access Control Products are installed using the most durable hardware such as vandal proof enclosures and armored cabling  in a systematic manner. Our Door Control Systems also feature various redundancy features such as manual system override, battery backup and secondary relays, ensuring a secure, tamper-proof installation with longer life span.
We adhere to all municipal By-Law, Fire Code, Electrical, Safety and High Security Zone Regulations.