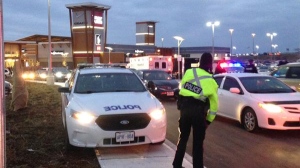 Single shot fired outside of Adidas outlet store at Tanger Outlets Mall west of Ottawa. Two people were taken into custody
One person was injured and two people were taken into custody after a shooting at Ottawa's Tanger Outlets shopping centre Friday afternoon.
Ottawa police, were called to the centre at about 3:45 p.m. ET, when a single shot was fired on Boxing Day afternoon.
Ottawa police Duty Insp. Mark Patterson says one person suffered a "very minimal" injury from what they believe was a single gunshot. (CBC)
Police are checking vehicles as they leave and doing grid searches as part of the investigation. No vehicles are being allowed in.
A post on the mall's website says they will be open for regular business hours starting 9:30 a.m. Saturday.
When tragic situations situations such as this occur during what is suppose to be a joyous and festive time it makes the holidays a little less safe and enjoyable for everyone.
It is important to have thorough high definition camera coverage that is capable of easily identifying faces for easy identification and prosecution.
With high definition video it is much easier to identify faces and extrapolate other necessary video evidence such as license plates.