Welcome to Liveforce Security, Ottawa's Leader in Security Systems. Where your Security, Safety, and Convenience is our Mission.
Liveforce Security is proud to be the preferred choice in the Ottawa & Gatineau region when it comes to securing and monitoring your business facility. We deploy IP Cameras, Alarm Systems, and Access Control Equipment with professional installation and continuous product support. We provide service to retail, commercial, industrial, institutional and government properties, for which we custom tailor a Security System Solution that best suit your needs.
Our Security Camera Systems, Burglar Alarm Systems, Perimeter and Access Control Systems all have the ability to seamlessly integrate into each other, making it intuitively easy for Managers, Stakeholders and Security Operators to have control across Enterprise Facilities.
The Primary Types of Security Systems We Provide Are:
Established in 2009, by a group of Ottawa IT Security Experts
The blend of advanced IT security technology, as well as our highly-trained security technicians and engineers, is one reason Liveforce is leading the industry in effective security system solutions together with comprehensive customer support. We only recommend hassle-free, tried and tested security products.
Our experts will help you take a comprehensive approach to making certain your organization has the appropriate security for your precise needs, while leaving room for scaling in size in the future.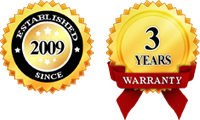 The Winning Edge when choosing Liveforce as your Security Systems provider:
Comprehensive Site Survey & Security Consultation

Combined with thorough planning and design of security systems that are most appropriate to the each unique environment.

Digital & IP Based Security Systems 

IP Cameras and Network Controlled Door & Perimeter System Traffic is encrypted and more secure than traditional analog systems.
Same Day Direct Replacement Warranty

Immediate replacement support for DOA or RMA Products. No extra labour fees, same day replacement service. No Waiting on Repairs!

Rapid Customer Service Response

Troubleshooting issues are resolved quickly due to our large number of senior technicians and Direct Manufacturer Support.
The National Capital Regions Preferred choice for Reliable Security:
For years, Liveforce Security has been the preferred choice in Security Systems for Ottawa area businesses, commercial facilities and as well as enterprise mangers that require utmost efficiency in security systems installed by certified, experienced professionals. To insure ease of use for our clients, the Surveillance Cameras, Burglar Alarm Systems and Access Control Systems can be integrated to work seamless together, making management and critical events easy to access and automate!
With the use of high quality Solid Copper Core Wiring, network Load Balancing appropriately, and several Redundancy options, we eliminate a lot of downtime issues and provide very reliable security systems that can run standalone.
On each project, we work hand-in-hand with security operators, managers and stakeholders to ensure all their security requirements are met.