Business Alarm Systems provide priority Alerts & Security in the event of Burglar Entry, Fire, Gas-Leak, Flood or Glass Breakage
Professional Business Alarm System Installations. We custom cater each Burglar Alarm package to meet the unique security requirements of your business. Upon installation of an Alarm System, customers have the choice to either self monitor at NO MONTHLY COSTS, or choose from a list of Monitoring Services with NO CONTRACT requirements or Penalty.
24/7 Business Alarm Monitoring,
All Plans Include:
2-way Immediate Voice Response

Custom Call Sequence & Alarm Procedures

Open/Close Alerts by SMS or Email

Monitoring Stations Across Canada

No Cancellation fees
Commercial & Business Alarm Systems, 
Scalable Alarm Panels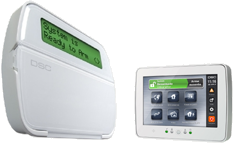 Protect your business against Burglary, Fire, Flood, & other unexpected events.
We provide trusted and realiable Alarm Systems with optional 24-hour monitoring service or self monitor. With emergency alerts, you can dispatch Fire, Ambulance or Police with a single press of a button.
No unwanted items or pre-packaged setups. We recommend the alarm sensors and detectors that are most suitable to your requirements. Our keypad and alarm panel boards are expandable for future growth.
Integrate into CCTV Systems for live video alerts and DVR event triggers.
Receive instant SMS Alerts to your mobile on openings/closings by your employees.
Alarm System Sensors & Contacts, 
Wired & Wireless Options


Standard Magnetic Contact


Low Profile Wireless Contact



Recessed Door Contact



Recessed Window Contact



Flood Detection Sensor



Carbon Monoxide / Smoke Detector



Motion Detector (indoor & outdoor)



Motion Detector (built in camera)


Glass Break Detector



Shock Detector



Natural Gas Leak Detector



Temperature Sensor


Outdoor Siren / Strobe Light



Panic Button



Multiple Alarm Keypads



Cellular Backup Communicator


Internet Alarm Communicator



Key Fob / Remote Access


Public, Institutional & High Security Facilities: Armored door/window contacts, sensors and detectors are also available upon request.